Mary E. Mouat, K.C. (Retired)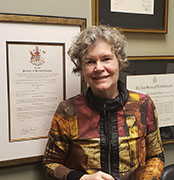 Mary, who was a partner at the Quadra Legal Centre, has retired.
Mary was active in a variety of professional organizations, such as the Canadian Bar Association, B.C. Branch, the Law Foundation of British Columbia, and the Victoria Bar Association.
Mary was honoured a number of awards, including the Pam Murray Award from the Victoria Bar Association and the Dean's Cup from the University of Victoria Law School.  Mary was appointed as King's Counsel in December of 2011. In November of 2015, Mary received the Georges A. Goyer, QC award for distinguished service from the Canadian Bar Association, BC Branch. 
Mary's approach to conflict and life always included and continues to include a large component of compassion and common sense.
While Mary will be missed by everyone at the Quadra Legal Centre and many in the family bar, we all wish her well in a long, happy and healthy retirement.